PRODUCTS
IF MACHINERY TEL:0769-81888512
HotLine:13712637092
Fax:0769-81550890
Email:if89@163.com
Skype:if89if
Website:
http://www.if89.com
http://www.if-china.com
Address:Yin Chen Industrial Zone Xiao Bian village ChangAn town Dongguan City GuangDong Province china.
 ink cup 90mm for kent (metal ink cup)
 Product ID:IF-KCUPP90m
INK CUP Ø90MM for PAD PRINTER Printable area: Ø85mm
---Suitable for brand : KENT , zhongXing, chungfou
and It can also be used in modification the automation system.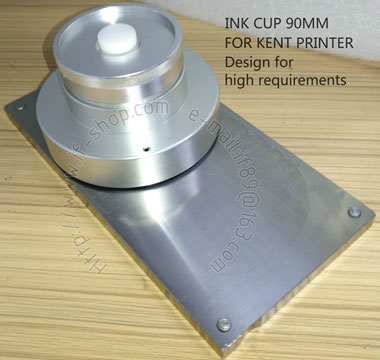 The ink cup works on any standard pad print machine,such as: pad print system equipment that need print label for production line; or,replace the open and old ink well system of pad priner with ink cup of environmental protection system.
The ink cup adopt high-pressure aluminum manufacturing, The scape ink cup blade ring adopt tungsten steel made. Between the ink Cup body and scraping blade ring used U form rubble ring gasket seal. the cup .The ink cup body surface oxidation white coat protective film.The ink cup appearance is high-grade, suitable for ink high requirements no pollution,printing effect of the high demand products used in .Wellcome contact us , its price is reasonable.we often stocks goods for you.